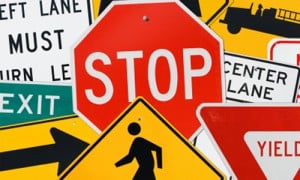 If you have received a moving violation, you may be eligible to complete a Driving Safety Course and have your charge(s) dismissed.
How do I request completing the Driving Safety Course option?
You must appear in person to request the Driving Safety Course on or before your court date, by 3:00 p.m., at the Municipal Court.  Approval must be received from the Municipal Court before you begin the course.
The following requirements must be met:
Not have completed a defensive driving course within the last 12 (twelve) months from the date the citation was issued, for a previous moving violation.
Not have completed a defensive driving course for this violation before the filing of this request.
Present to the court a valid Texas driver's license or permit (can not be a commercial driver license).
Present to the court proof of financial responsibility.
Present to the court a certified copy of my driving record from the Department of Public Safety. Request your Driver's Record from Texas DPS online https://txapps.texas.gov/tolapp/txldrcdr/TXDPSLicenseeManager
Order 3A certified version of #3. Furnished to Licensee ONLY and is Acceptable for DDC course. $12.00
Take a driving safety course approved by the Texas TEA/TDLR (Texas Education Agency or Texas Department of Licensing and Regulation), within 90 days of this request.  COURSE MUST BE COMPLETED BY C54
Note: Violators sixteen (16) years of age or under must appear in court accompanied by parent or guardian.
After Completion of the Driving Safety Course
You have ninety (90) days from your request to take a Driving Safety Course and present to the Municipal Court the following documents:
Failure to present this information will result in the Municipal Court entering a judgment of conviction with a fine of $200.00 and a report of the conviction to the Texas Department of Public Safety to be recorded on your driving record as required by law.
| | | |
| --- | --- | --- |
| Municipal Court | (281) 983-2942 | court@cityofmeadowsplace.org |