Do you know what to do before you starting digging? Anyone planning to dig or excavate deeper than 16-inches is required by Texas law to call 811 before beginning their project so underground utilities can be marked.
Before You Dig, Do Your Part.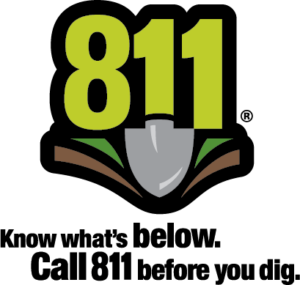 Call 811: A free phone call to 811 will start the process to get pipelines marked.
Wait: Once a free phone call to 811 is made, wait the required amount of time for underground utilities to mark the proposed work area.
Respect All Markings: Make sure worksite is clearly outlined and do not dig where underground utilities are marked. To change the location of project, start from Step 1.
Dig With Care: If a buried pipeline is struck, the owner of that utility should be contacted immediately. Unreported damage, including damage to pipeline coating or denting of the pipe, can lead to an accident days or even years later.
CALL 811 TO DIG OR EXCAVATE (This includes when planting a tree, installing a new fence or driving long stakes into the ground to secure a bounce house. You could hit a pipeline)
CALL 911 IN AN EMERGENCY
Texas 811 Click HERE
More information can be found HERE
Pipeline Safety Brochure English_Spanish