Current Property Tax Rates
Since Meadows Place incorporated in 1983, city leaders have striven to achieve a balance between providing high quality city services to its residents and keeping taxes at reasonable levels.
Taxes for Meadows Place residents per $100 valuation are below. The tax rates are set by each entity and are subject to change on an annual basis

Other possible exemptions are:
Homestead Exemption: 20%
Over 65 Exemption: $30,000 *
Disabled Person Exemption: $30,000 *
Disabled Veteran's Exemption: $5,000 to $12,000 **
* In regards to the Over 65 and Disabled Person Exemption, you may only qualify for one $30,000 exemption. Both cannot be applied. However, the one you are eligible for can be combined with the Homestead and/or Disabled Veteran Exemptions.
** The Disabled Veteran's Exemption ranges from $5,000 to $12,000 based on percent of disability.
Click here to download the Homestead Exemption Form
Click here to download the Disabled Veteran Exemption Form
Estimating Your City Property Taxes
The following is an example of how to estimate your city taxes using the 2019 current rate and the 2019 Assessed Average Homestead property value of $182,000:
| | |
| --- | --- |
| $196,526 | (property value) |
| – $39,305 | (homestead exemption $196,526 * 20%) |
| $157,221 | (taxable property value) |
Now divide the property value by $100 and multiply by the tax rate to determine the estimated city property tax:
$157,221


$100
* $0.832 = $1,308
Rising Property Values in Meadows Place
The following chart shows the 6 year trend for average homestead assessed property values and City property taxes per homestead.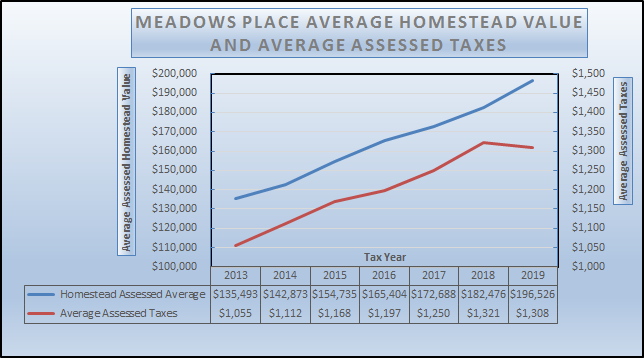 Source: Fort Bend Central Appraisal District – for Average Assessed Homestead Value
Tax Tools
The following are links to other taxing entities whose districts include Meadows Place. The City of Meadows Place is not responsible for the information on these websites. If you have questions or need more information about any of these, please contact them directly:
If you have any questions or need more information, please contact City Hall at the numbers below.
Contact Information
| | |
| --- | --- |
| Phone: | (281) 983-2950 |
| Fax: | (281) 983-2940 |