Recent Parks and Recreation News
Message from the Director
Welcome to the City of Meadows Place Parks & Recreation where we offer you "FUN THINGS in LIFE".  Your staff at Meadows Place Parks & Recreation are busy keeping our Park facilities maintained, planning special events, classes and programs for you and your family.  Hopefully you will find something that will entertain, enhance or improve your life.
Should you have any suggestions for additional programs or classes, please feel free to contact us.  Parks & Recreation services are vital to our communities as they protect the environment, promote social interaction, increase economic development and improve community health.  We hope you will join us for some "FUN".
See you out at the parks! Click here for a list of all our parks and amenities.
Colene Cabezas, Parks and Recreation Director
---
The Parks & Recreation Department is dedicated to enhancing the health, safety and welfare of all citizens in the City of Meadows Place by providing quality services, programs and facilities.
Activities are open to all persons regardless of race, age, social, economic level, sex, or national origin.  All individuals with special needs are encouraged to participate in City of Meadows Place recreation programs.
If you have questions or need more information about any of the Meadows Place Parks & Recreation facilities or programs, please feel free to call or email.
Contact information:
Parks & Recreation Department
City of Meadows Place
One Troyan Drive
Meadows Place, Texas 77477
Phone:  281-642-7696
Fax:       281.249.0050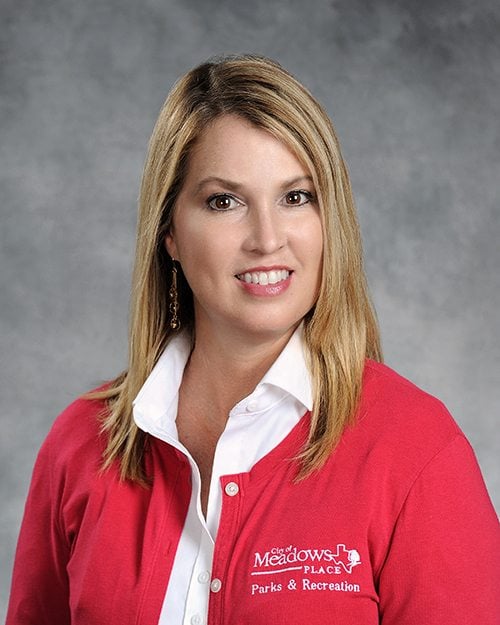 Colene Cabezas, Parks and Recreation Director
Email: parksdirector@cityofmeadowsplace.org
Leigh Ylanan, Park Superintendent
346-606-5141 (Cell)
Email:Lylanan@cityofmeadowsplace.org
Carolyn Whitlow , Recreation Coordinator
281-642-7701 (Cell)
Email:Recreation@cityofmeadowsplace.org281-