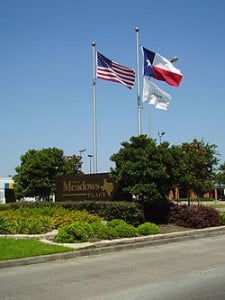 The City of Meadows Place is committed to improving the quality of life in our community. Code Enforcement works hard to maintain the status of our city as a clean, safe, and livable city by routinely patrolling the neighborhood, responding to complaints and investigating code violations. Daily activities include; removal of illegal signs, identifying non-permitted work, and enforcement of the zoning ordinance. We all want to show pride in our community, and by displaying that pride we can also all be building the values of our homes. We would all like to be considered "good" neighbors, and also have the same expectations of the family living next door. It's difficult to know what expectations your neighbors have of you, and you also may not know what expectations the city also has, so the city has put together a list of 10 common issues that some of you may not be familiar with. Our Code Enforcement Flow Chart explains how violations are handled here in Meadows Place. (Please note that it is not required that I issue a warning notice before issuing a citation.)
Attention Renters and Landlords:
The City of Meadows Place requires that homeowners wishing to rent/lease their property to another individual, must apply for and obtain a yearly Residential Rental Property License.
If you are a tenant, and your home is not registered, you should contact your landlord immediately to have him/her make application. (This will prevent fines & court appearances for non-compliance.) A link is provided below to the information packet that explains the process, as well as the application form.
Here is the "Top 10" list of most common violations that occur:
Solid Waste, Recycling & Trash Cans : Please be sure that you are not placing items curbside for collection any sooner than the evening (after 2 pm) prior to pick-up. Trash days are Tuesdays & Fridays. Friday is heavy trash day & Recycling.
(Empty trash cans & recycle bins need to be removed from the curbside promptly the day that they are collected. All trash cans must be stored out of public view. This means that you may not store your cans in front of your garage door, or at the side of the house if they can be seen anywhere from the street or sidewalks.)
Trailers, Boats & RV's: Trailers, Boats & RV's cannot be stored in public view. If you are making preparations for, or returning from a trip and need to clean your R.V. or boat, please send an email to Code Enforcement listing the dates you need.
Grass & Weeds: Grass & weeds cannot exceed 9 inches in height. Each resident also needs to keep the cracks of concrete clear from grass / weeds AND edging must be done along all edges of grass and concrete.
Inoperable Vehicles: Vehicles must be kept in good working condition, and must be legally registered and displaying a current registration as required by law.
Animal Control Violations: No dog may Run at Large within the city. Animals that are outside of their normal enclosure must be restrained by a leash and under the control of a capable owner or keeper. In addition, when in public, you must pick up after your pet. The maximum allowable number of pets per household is 4 (dogs & cats) over the age of 4 months.
Stumps: Tree stumps need to be cut flush with the natural grade or be removed.
Inoperable Gas Light Posts: Non-functioning gas lamps can pose a potential risk, and need to have the gas line capped by a licensed plumber prior to the removal of the lamp post.
Signs: Contractor signs cannot be displayed in yards.
Junk, Trash & Debris: Yards need to be kept clear of any accumulation of debris, which includes old newspapers or circulars. All yards ( front & rear ) are required to be kept in a sanitary manner.
Fences: Fences must be maintained in good condition. If your fence is not structurally sound or has missing pickets then it needs to have maintenance performed.
It is very easy to be taken over by the speed in which your life is moving by, and by focusing yourself on completing your laundry list of tasks you may not notice someone who is in need. Please remember that we are a COMMUNITY. We have residents of every age and walk of life. A simple task of trimming back a tree branch 10 feet above the sidewalk may not be a problem for most people, but it may be a huge obstacle for another. Please be mindful of your neighbor's needs and offer assistance if you are able. You can also contact City Hall if you are not able to assist them and I will try to find them assistance when possible.
"Code compliance is an intricate and valuable function for our city. Compliance with codes is essential to preventing crime, protection of public safety, preserving property values and avoiding deterioration of our community."
"The goal of the city is to provide education and offer assistance to rectify Meadows Place code violations in a timely manner". Mayor Charles Jessup.
Forms:
Occupancy Inspection Requirement Information Sheet
Rental Registration Information Packet
Application for Residential Rental Property License
To report a violation contact Code Enforcement:
Code Violation Report Form