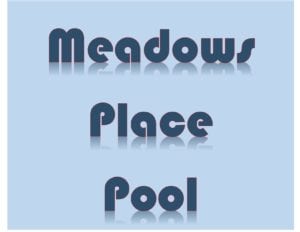 2020 Regular Pool Hours:
Text 281-642-7701 for weather-related pool closure information.
Monday: CLOSED (for maintenance)
Tuesday – Saturday: 11:00 am to 8:00 pm
Sunday: 1:00 pm to 8:00 pm
Holiday Hours : 12:00 pm to 7:00 pm
2020 Months of Operation:
May: Pool opens for the season on, Tuesday, June 9, 2020.
June & July: July 4th, pool will be open from 12pm – 5:30pm
August: Regular hours until school starts.
Last weekday in 2020: August 11, 2020. Pool closes at 5:00pm
August & September: Weekends only (after school starts) through Labor Day.
Last Day: September 27, 2020
Pool closes for the season September 28, 2020
2020 Weekend Hours beginning August 11th to September 27th:
Monday to Friday: CLOSED
Saturday: 11:00am to 8:00pm & Sunday 1:00pm to 6:00pm
---
Pool Pass
Pool wristband can be purchased at the pool from 1pm-7pm starting June 9, 2020 for $5 each until June 21, 2020. Price will increase to $10 each after.
Only adult residents of Meadows Place may purchase seasonal wristbands; a registration card must be completed.
A Driver's License and/or Meadows Place water bill verifying Meadows Place residency must be shown to purchase wristbands.
Wristbands are $10 per band, after June 21st. One wristband required for each family member. No refunds. There is a $5 replacement fee for lost wristbands.
Residents must have wristbands with them to enter pool.
A maximum of one (1) guest allowed per band; all guests must be accompanied by a resident.
Wristbands are valid for one Summer season only, June through September.
Non-residents may purchase a day pass for $15, good only on the date of purchase and must be accompanied by a resident at all times.
Pool rules posted and on registration card MUST be followed at all times.
---
Parties at the Pool!!
Have your party at the Pool this summer!!! Enjoy reserved tables, bring in your own food and drinks and feel safe knowing our lifeguard staff is watching out for you and your guests! The swimming pool can be rented for private parties in the evening after the pool closes to the community from mid-May through August or during public swim hours. Rental of the pool includes lifeguards but does NOT include use of the Community Center. Reservations for the pool must be accompanied by the rental fee in cash (there is no deposit required for pool rental). Contact the Parks & Recreation Department with questions.
Private Pool Rental maximum rental time is 3 hours.
Private Pool Rental Fee: $350.00 (cash) (non-residents add $175.00)
Public Swim Pool Rental maximum rental time is 2 hours.
Public Swim Pool Rental Fee: $50 + $5 non resident guest (cash)
CLICK HERE FOR POOL RESERVATION FORM
---
Meadows Place Swim School
ALL SWIM LESSONS ARE CANCELED DUE TO C-19
Learn how to swim or hone your skills at Meadows Place Swim School! Lessons are taught by trained instructors. All Swim Lessons are guarded by Meadows Place Lifeguards and will be held in the Meadows Place lap pool.
Text 281-642-7701 for weather-related pool closure information.
Resident-$80/student/session
Non-resident-$90/student/session
There will be a maximum of 5 students per class. To participate in any City of Meadows Place program or class, pre-registration is required. Make checks payable to City of Meadows Place; with payment, mail or turn into the City payments box at City Hall.
Swim Level Description:
Goldfish (Water comfort)- Goldfish class will teach basic breathing and buoyancy. They will learn how to enter and exit the water properly and have the child comfortable in the water by themselves. Swim diaper required for non-potty trained students
Sea Lion (Basic technique)- Sea Lion class will work on rhythmic breathing and retrieve submerged objects. They will learn basic arm motions and kicking.
Otter (Skill development)- Otter class will introduce the student to the deep water along with diving, strokes, and treading water.

Private Swim Lessons Available!Click here to print out the registration form.
Appointments are available for 30-minute private and semi-private swim lessons. Lessons are based on your schedule and pool/staff availability. Fees must be paid when the appointment is made and are non-refundable for no-shows. Cancellations must be made at least 24 hours in advance of scheduled swim lesson time. To request private swim lessons or for more information, please email mrenaud@cityofmeadowsplace.org or call 281-642-7701
Fees: Private (1:1): $35
Fees:Semi-private (1: 2): $25 per student