Single Lane Roundabouts Planned For Meadows Place 
What does this mean for The City of Meadows Place?
Meadows Place is now home to an award-winning design and construction project that solved a serious problem for the City of Meadows Place – South Kirkwood was beginning to crumble. HDR was selected to do the engineering portion of the reconstruction of S. Kirkwood. Asukura Robinson was designated to do the Landscape Design. The contractor selected was Marcon Construction.
In 2021, Meadows Place received the Texas District of the Institute of Transportation Engineers Norman Hogue Roundabout Project of the Year Award.
Why Roundabouts?
Kirkwood was at the end of its life expectancy and was beginning to cost the City a lot of money in maintenance and repair each year. Fortunately we were able to include this in a Fort Bend Mobility Bond project.  Bottom line, Kirkwood neededto be rebuilt but the four consecutive stop signs did not meet modern engineering standards. Several options were looked at and two major engineering studies were completed. The best overall solution, at the same price point as replacing it as it was, was modern roundabouts. 
Modern Roundabouts will be safer, move cars more effectively, cause less pollution and will create a beautiful new buffer that will separate us from Alief/SW Houston. Additionally, they will help make us distinctly Meadows Place and Fort Bend County.
Why do they look the way they do? 
The project was engineered for safety and efficiency by HDR Engineering with the landscaping designed by one of the premier landscape architects in North America – Asukura Robinson.  Working together they came up with an exciting and beautiful thoroughfare enhancing Meadows Place for both residents and passersby.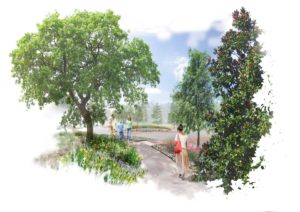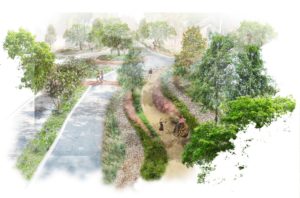 Here are some of the plants and trees that will be used.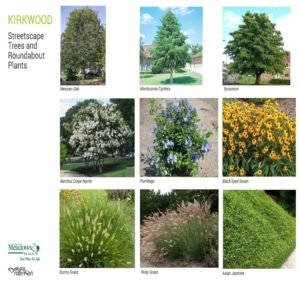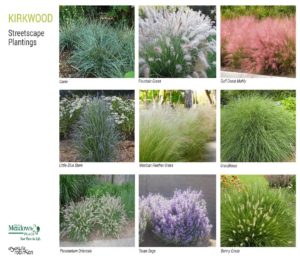 How are we going to pay for it?
Fortunately, most of this is funded thru the Fort Bend Mobility Project. This is a County bond project that is already funded which means it is county tax dollars coming into Meadows Place. By law, these funds have to be used ONLY on the road projects which the voters approved in 2007 and have nothing to do with our annual operating expenses or city taxes.  The City cannot use these funds for other things but if we did not use them to repair this rapidly deteriorating roadway, we would have lost the funding. 
What studies say about Roundabouts:
Other Cities:
"Although we did experience some negativity prior to the actual construction, I have heard no complaints since."
"As a matter of fact, this issue was one of our more controversial topics in town until the roundabouts actually began to operate."
"Today, I would say the roundabouts are one of our more lauded efforts. Almost everyone is supportive. So much so, that we are constructing three additional roundabouts and the citizens are pressing us for completion dates."
Federal Highway Administration:
"Roundabouts can be considered for a variety of reasons. The roundabout guide describes categories for selection that range from community enhancement and traffic calming, to safety improvements and operational benefits."        
Benefits of Roundabouts:
On the Greener Side:
Roundabouts also have environmental and aesthetic appeal. Roundabouts cut vehicle emissions, pollution and fuel consumption by reducing the time drivers sit idling at intersections.
Other:
Roundabouts offer significant safety benefits (accidents are typically less frequent and less severe than signalized intersections)
Access benefits to adjacent properties are often realized since they provide easy U-turns
Smooth traffic operations due to continuous flow…congestion and delay is reduced
Traffic calming is provided due to reduced speeds at intersections
Lower cost and often less Right-of-Way required when compared to signalized intersection; at high-volume intersections, the roundabouts occupy far less space than the signalized equivalent intersection.
Aesthetic opportunities offered from increased landscaping
Long term cost savings with less maintenance (depends on landscaping)
The roadway will be lighted and this will allow for safer travel
New multi-use path and sidewalks will allow for safe pedestrian travel so the pedestrians will not need to walk in the roadway
All quotes and additional information on Roundabouts were taken from "Roundabouts: A Way Around Costly Accidents" by Constance Parten
For detailed professional opinion on Roundabouts, please check this link as well. http://www.insurancejournal.com/magazines/southcentral/2000/08/14/features/22640.htm
More info:
Helpful Videos:
http://www.youtube.com/watch?v=vsCoI7lERGE
http://www.youtube.com/watch?v=MywmtskFiiI&feature=related
http://www.youtube.com/watch?v=Y05qGz5B1Wg&feature=related
http://www.youtube.com/watch?v=LnT1HXo7p_4&feature=related
http://www.youtube.com/watch?v=NO1bi6inF60&feature=related
We hope you find this helpful. If you have questions or concerns, please e-mail them to City Hall at: mayor@cityofmeadowsplace.org Thank You!
The following links will give you more information.