The following links will give you more information.
We will be adding information to this section from time to time so please let us know if YOU have a question we need to address.
Roundabout Center Accents being Considered for Medows Place
Now, let's answer a few of those basic questions…………
Who – The City of Meadows Place
What – Roundabouts & Road Repairs
When – We have selected HDR Clauch&Miller to do the engineering portion of the repairs to W. Airport Blvd. The contract was "let" in late August. Now that the engineering contract is "let" the estimated time to complete construction is a year to year and a half. The work on Kirkwood should begin some time after that.
Where – W. Airport from Kirkwood to 59 and Kirkwood thru the City limits.
Why – Both roads are at the end of their life expectancy and are beginning to cost the City a lot of money in maintenance and repair every year. They both need to be rebuilt.
Why Roundabouts? Independent research has shown that changing Kirkwood from a series of four, four lane four way stops to modern Roundabouts is the best Alternative for the city. They will be safer, move cars more effectively, cause less pollution and will create a beautiful new buffer that will separate us from Alief / SW Houston and help make us distincly Meadows Place and Fort Bend County.
How Are You Going To Pay For It? – Fortunately, almost all of this is funded thru the Fort Bend Mobility Project. This is a County bond project that is already funded which means it is county tax dollars coming into Meadows Place. By law, these funds have to be used on the road projects which the voters approved in 2007 and have nothing to do with our annual operating expenses. We cannot use these funds for other things and if we do not use them to repair these two rapidly deteriorating roadways, we will lose them.
We hope you find this helpful. If you have questions or concerns, please e-mail them to City Hall at : mayor@cityofmeadowsplace.org. Thank You.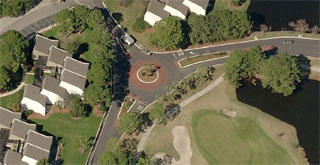 (Roundabout in Panama City used by Councilman Terry Henley)
Please review the information and links below for additional information
FYI
Or – What other folks have found out about Roundabouts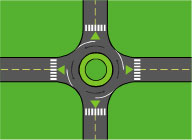 Excerpts from: Roundabouts: A Way Around Costly Accidents
by Constance Parten ; taken from The Insurance Journal
"Roundabout construction should be strongly promoted as an effective safety treatment at intersections," Retting said. "There's nothing to lose from constructing them and everything to gain. The proof is already there".
They (Roundabouts) may be an unfamiliar type of intersection to the United States, but as evidence of their benefits grows, roundabouts are popping up in neighborhoods and on major thoroughfares throughout the country.
What other cities have said about Roundabouts
"Although we did experience some negativity prior to the actual construction, I have heard no complaints since."
"As a matter of fact, this issue was one of our more controversial topics in town until the roundabouts actually began to operate."
"Today, I would say the roundabouts are one of our more lauded efforts. Almost everyone is supportive. So much so, that we are constructing three additional roundabouts and the citizens are pressing us for completion dates."
One of the most controversial traffic subjects in Fort Collins is the use of roundabouts. While Fort Collins has only one roundabout at a major intersection, there are many in residential neighborhoods. An alternative to the standard traffic signal, roundabouts provide a safer, more efficient, economically advantageous, and environmentally friendly way to move traffic along the roadway system.
What the Federal Highway Administration says…
"Roundabouts can be considered for a variety of reasons. The roundabout guide describes categories for selection that range from community enhancement and traffic calming, to safety improvements and operational benefits." NOTE— You can pick up a copy of the Federal Highway Administration brochure at Meadows Place City Hall.
About Traffic Flow
The maximum daily service volume of a single lane roundabout varies between 20,000 and 26,000 vehicles per day, depending on the left-turn percentages and the distribution of traffic between the major and minor roads.. (NOTE: Kirkwood traffic count through Meadows Place is only 10,000 to 12,000 vehicles per day)
On The Greener Side
Roundabouts also have environmental and aesthetic appeal. Roundabouts cut vehicle emissions and fuel consumption by reducing the time drivers sit idling at intersections. Traffic that moves more slowly through intersections creates less noise and congestion, minimizing the expressway look and feel of roads in urban and suburban areas. And landscaping on the island at the center of a roundabout offers visual appeal and restores a bit of nature. Roundabouts also create visual gateways to communities or neighborhoods, and in commercial areas they can improve access to adjacent properties.
"The priority for road planners and engineers in this country has been to process as much traffic as possible. Traffic signals have become the technology of choice," Brian O'Neil said. "It's hard to deviate from that approach. Countries in Europe and elsewhere have been much more progressive in focusing on traffic calming and making intersections safe for pedestrians. They caught on long ago to something we've ignored because of our fascination with technology. Recent interest in roundabouts in the United States is one sign that priorities finally are shifting."
For detailed professional opinion on Roundabouts, please check this link as well.
http://www.insurancejournal.com/magazines/southcentral/2000/08/14/features/22640.htm
Another City putting in Roundabouts and putting out the facts……
There will be 8 roundabouts on the Shiloh Road corridor in Billings, Montana, when construction is complete next year or the year after.
Feel free to find and check out their complete report but here is what they say will be the Public Benefits; (There will be similar benefits in Meadows Place)
The new Shiloh Road will supply a major north/south arterial for traffic. The traffic will flow smoother with the use of the Roundabouts at the major intersections to allow for a safer roadway design and function.
Roundabouts offer significant safety benefits (accidents are typically less frequent and less severe than signalized intersections)
Access benefits to adjacent properties are often realized since they provide easy u-turns
Smooth traffic operations due to continuous flow….congestion and delay is reduced
Traffic calming is provided due to reduced speeds at intersections
Lower cost and often less Right-of-Way required when compared to signalized intersection; at high-volume intersections, the roundabouts occupy far less space than the signalized equivalent intersection.
Aesthetic opportunities offered from increased landscaping
Long term cost savings with less maintenance (depends on landscaping)
The roadway will be lighted and this will allow for safer travel
New multi-use path and sidewalks will allow for safe pedestrian travel so the pedestrians will not need to walk in the roadway
Sidewalks and multi-use paths will serve as a connection to the existing City of Billings bike net system . (note – Meadows Place intends to have a connecting trail system)
Going Around the Neighborhood – A Roundabout Case Study in Texas Kelly Parma, P.E., John Denholm III, E.I.T.
ABSTRACT. A neighborhood traffic management study was conducted in a suburban Dallas community in an attempt to reduce cut-through traffic. Traffic calming measures were originally evaluated as part of the study; however, a closer analysis of the existing conditions in the field revealed that improvements to an intersection adjacent to the neighborhood could potentially solve the problem. This arterial-collector intersection experienced long delays and excessive queue lengths under all-way stop control during the peak periods, leading to a considerable amount of cut-through traffic on the study neighborhood roadways. Possible improvements to this intersection (additional lanes / signalization / roundabout) were evaluated by Lee Engineering and the City of Southlake before proceeding with the first roundabout in the community. A single-lane urban roundabout constructed within the existing right-of-way was predicted to increase mobility at the intersection and reduce cut-through traffic in the neighborhood. Traffic data collected before and after the installation of the roundabout indicated a reduction in delay, a reduction in queue lengths, and an increase in entering traffic volumes. Additionally, the roundabout eliminated complaints of cut-through traffic through the neighborhood.
More Links:
Roundabouts – What they are and what they aren't
Video #1: http://www.youtube.com/watch?v=vsCoI7lERGE
Video #2: http://www.youtube.com/watch?v=MywmtskFiiI&feature=related
Video #3: http://www.youtube.com/watch?v=Y05qGz5B1Wg&feature=related
Video #4: http://www.youtube.com/watch?v=LnT1HXo7p_4&feature=related
Video #5: http://www.youtube.com/watch?v=NO1bi6inF60&feature=related
Pre-Construction Conference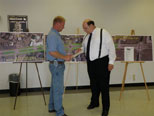 A 12' long drawing of the Kirkwood portion of the road reconstruction project shows but one of many aspects of this major repair and reconstruction project that need to be planned out. This project, most of which is funded mostly by the Ft. Bend Mobility Fund, which will encompass the repair and reconstruction of Kirkwood through the length of the city and W. Airport from Kirkwood to the Intersection of Hwy 59.