For More information – click the Road Repair & Roundabouts button on the City of Meadows Place website.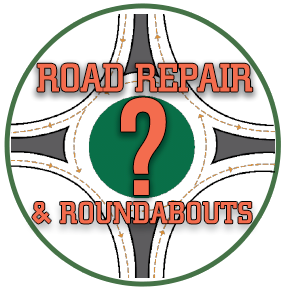 There still seems to be a lot of confusion about what is taking place on South Kirkwood right now so we have put up an information and Ask A Question page on our website. Hopefully this will fully answer some of the questions I am still hearing like What are they doing; Why Now and Why Roundabouts; What are they going to look like; How is the City going to pay for this and Are My taxes going up because of this? No is the answer by the way.
There are some artist renderings to give you an idea of how it will look a few years after they are finished, examples of the plants to be used for landscaping and other items being considered. There is even a big button with a ? mark for you to click if you want to ask the city a question. Toward the bottom there are several informative links and articles. Hope everyone will take a look and please, if you have a question – click the Ask a Question button and send your question in to the city. We will get you an answer in a day or two….except on weekends. Then it may take longer. Thank You- and please be careful during the construction because it is a mess out there!