PD is functioning but City Hall and other City facilities are closed to the public until further notice. Staff is able to work remotely -when they have power and internet. Stay safe.
CenterPoint Energy has announced they plan to begin 1 hour Rolling Blackouts that may affect the City of Meadows Place. Keep tuned to local news for updates and take appropriate actions.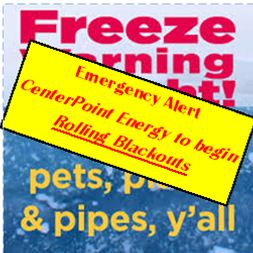 In preparation for the upcoming freezing weather, Staff is preparing to winterize our facilities to the best of our ability, up to and including putting anti-freeze in our parks bathrooms. We are bleeding our irrigation lines, covering pipes, taking care of the animals, and covering sensitive plants. PD, Parks and Public Works have all been working hard to protect YOUR property.
Look out for ice on the road. Beginning Sunday our bridges will be sanded by the City.
On the water production side, all lines 2" and below are being winterized, and the hydro-pneumatic tanks at the water plants have heaters on them. Chlorine rooms also have heaters in them, so water systems can be protected in a hard freeze. Freeze prevention measures have been taken at the Waste Water Treatment Plant as well.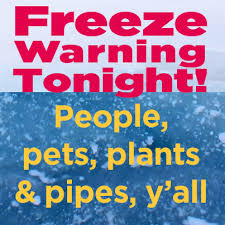 We can't guarantee there won't be freeze damage somewhere, but we're doing what we can to prevent it and maintain operations.
USW, our Water Systems Company advises City of Meadows Place Residents that:
Meadows Place and the Greater Houston area will experience freezing temperatures for the next four days. Please be advised that temperatures below 32 degrees Fahrenheit for an extended period of time, can and will cause damage to water pipes. To prevent damage to your water lines please check that your exterior house line and exterior spigots are insulated. If you have a backflow device, please be sure to isolate the isolation valves, then open the bleeders with a flat head screwdriver. Thank you!
USW Utility Group 832-756-2143
If you don't have Eye On Water now is a good time to sign up for it.