Meadows Place City Council approved the purchase of the property next to the pool and Community Center. This is great for the city. This was planned for, but not for this year. The "long term" plan was to obtain this property by the year 2025 so if Meadows Place wants to create an Aquatic Center, we would have the room. With this acquisition, we will have met that goal but it has already created new opportunities.
Once the transaction is complete, groups like Baseball, Swim Team, Garden Club and more will have a place to meet and not shut down, or have to fight over, the Community Center.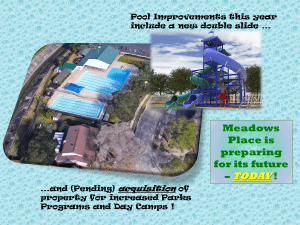 Other "short term" plans include using it as a multi-function meeting place for Parks programs such as Summer Day Camps. Our strong financial position played a big role in being able to obtain this property now. Strategic moves like this ensure Meadows Place can always be- Your Place for Life !