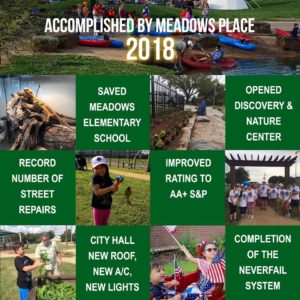 Accomplished by Meadows Place in 2018 – just a few for you to review. Thanks Meadows Place City Council and Staff !
Saved Meadows Elementary
Created EDC Advisory Committee
EDC Bought city 3 new banners -look great
Conducted a Parks Survey (Jan)
Opened Discovery and Nature Center (got great press) Changing the city
Spring Concert with Candles on the Lake (UNICEF fundraiser) Wow…
Meadows Place selected as one of the best places to raise a family
Meadows Place YAC recognized at State gathering
Kid Fish – sponsored by CCA (again!) big success
Election
Repaired Traveling Bridge in WWTP
SaveME Celebration
MP Took over Payroll – Big deal – savings ($18K) – Much better service
City Hall -New Roof; New AC; New Courtroom Lights
Great articles in Ft. Bend Star – Human Trafficking, EOC, Nature Center
Monarch Madness Festival & Craft show (bigger) – worked w/ Garden Club
Positive Moody's Report Aa3 – Improved rating from S&P to AA+ from AA
Got Sex Offender Lawsuit Against City Dismissed
Finalized FEMA reimbursements (whew) – from Ike ($51,600 back to city)
Meadows Place ranked 8th best suburb in Greater Houston Area
Filled Code Enforcement Position
Initiated Several Zoning Changes –(maximize Special Use permit requirements)
Had ½ of city sewer lines cleaned and filmed
Adopted newer building, fire and health codes
Added to the Sterling McCall sign – developed a new rotation – video
Revised Past Due Utility process (speeding up process significantly)
Hosted 2018 City Sect. mtg. & Luncheon ( 1st time ! big success !)
Hosted Training Sessions with County, S L, Stafford and more
Held benefit Open House for staff
Changed Banks – Big Deal -save about $5 k a yr. – MUCH better service
W Airport Reconciliation request completed and received (from county)
Added Polar express to Christmas Memories
Landscaped City Hall – Improved landscaping at entrances
Completion of the NEVERFAIL System
Ongoing video series – sponsored by EDC – good feedback
Began Drone flights and videos
Irrigation Training for Public Works Staff
New Isolation valves at Water Plant # 2
Partnered with Fire Dept to speak with kids at summer camp
Booked 32 field trips to the Nature Center for 2018 -2019 school year.
Completed the TML rerate paperwork
Set a record for street repairs
Added Eco-Friendly bathroom near the park and school
We have great plans for 2019 too !!!
Continuous Improvement ensures Meadows Place will always be ….Your Place for Life