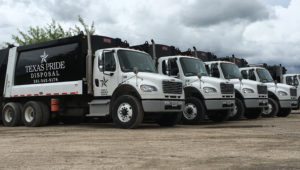 Storm Debris all but gone – Wednesday Sept. 13, 2017 – With the exception of 5 homes that the County Debris Collection Contractor will be picking up soon, Meadows Place is all cleaned up and back on a regular trash schedule of Tuesday and Friday pickup Thank you everyone for your cooperation and a special Thanks to Kevin Atkinson and Texas Pride Disposal who did so much to help us clean up after Harvey.
Storm Debris Removal – The County will be picking up Storm Debris this weekend. Either Saturday or Sunday Sept. 9th or 10th.…. We do not know which day and won't until they get here. Please do not park in front of or obstruct the pile in any way. They may use a claw truck and need clear access to clear our city of storm debris. I repeat, we do not know which day they will pick up.
What we do know ……..is that this is NOT Spring Cleaning. Do not haul your old junk to the curb. That is not storm debris …and this is Storm Debris cleanup.
People have asked What is Storm Debris. Storm Debris is Brush, tree limbs, sheetrock, ruined flooring or carpet, blown down fences, and things destroyed in the storm. That is storm debris. We don't have a lot but we have a chance to get it picked up this weekend.
The city has submitted a list of addresses to the County which has been turned over to the Debris contractor. If your address is not on the list, and they see a pile of debris,… and it is storm debris, they WILL still pick it up.
If you are not on the list and your pile of trash is not storm debris, they will not pick up it up. This means you will have to haul it to the dump or pay a contractor like Texas Pride Disposal to pick it up and dispose of it.
That is on you.
Again, we will have a contractor by on Saturday or Sunday to haul off our storm debris, Please do not block the piles so we can get them picked up. Thank You
Update on Storm Debris Pick-up. City of Meadows Place is working with Fort Bend County Office of Emergency Management to get our Storm Debris picked up. We sent them a list of homes with Storm Debris and they are advising us that it should be picked up within a week. Other homes may be picked up IF the debris is Storm Debris. All homes will have to have debris by the curb and cleared of parked cars, etc.
This is for Storm Debris, not clean out my garage debris and old broken junk. If you put anything but Storm Debris out and it does not get picked up, YOU will need to haul it to the dump or pay a contract hauler, like Texas Pride Disposal, to haul it off.
We will notify you by Code Red, Facebook and the Website when we have a specific date. Thank You.