For those who may be unaware, the Meadows Place Newsletter, which comes out monthly, is put online when the newsletter is published.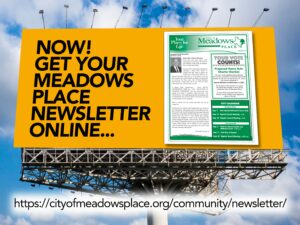 This means it will be available online several days before the one mailed to your home. We hope you use this to pull up our newsletter whenever you need it, from whichever device you are using from wherever you are. To get there go to City of Meadows Place website; click Community and then click Newsletter. It is just that simple. Please tell your friends and neighbors as well.
Here is the Link for February. Enjoy.
https://cityofmeadowsplace.org/wp-content/uploads/02.2022-Meadows-Place-February-2022-Newsletter.pdf
Thank You – and please sign up for CodeRed and EyeonWater.